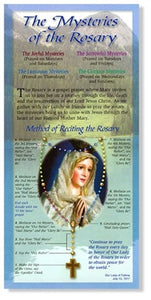 The Rosary is a gospel prayer where Mary invites us to join her on a journey through the life, death and the resurrection of Our Lord Jesus Christ. As we gather with our family or friends to pray the rosary the mysteries bring us to unite with Jesus through the heart of our Blessed Mother Mary.
The Mysteries of the Rosary from the Holy Land Pamphlet includes:
The Joyful Mysteries
The Luminous Mysteries
The Sorrowful Mysteries
The Glories Mysteries
The prayers before, during, and after the Rosary.
And the method of reciting the Rosary

 
Size: 8.5' x 4"