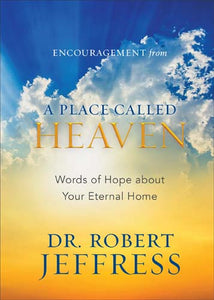 As we face the realities of our broken world, where misunderstanding and violence tear people apart and sickness ravages the globe, we reach out for some hope to hold on to. The greatest hope we have is the promise of heaven. But so many of us know so little about what awaits us after this life is over, and what we do know is often influenced far more by TV and movies than God's Word.
With powerful biblical truths drawn from his bestselling book 
A Place Called Heaven
, Dr. Robert Jeffress offers much-needed comfort, hope, and encouragement to the hurting and fearful in a portable and easily digestible format. Filled with inspiring Scripture, breathtaking photos, and words of wisdom, this beautiful book is the perfect gift for anyone going through stressful times, struggling with chronic illness, or grieving the loss of a loved one.