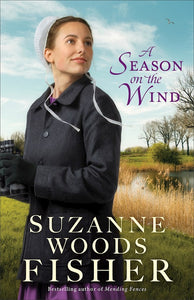 After a long absence, Ben Zook returns to his childhood home of Stoney Ridge in search of a rare bird. He plans to find the bird and leave rather than pick up where he left off. But he soon discovers that even if you try to forget the past, the past remembers you.

Ben Zook had only two loves in his life: books and birds. In a stroke of good fortune, he'd stumbled onto a way to cobble together those two loves into a career, writing books about rare birds. He was as free as a bird--until a chase for a rare White-winged Tern takes him to the one place on earth he planned to never return: his Amish home in Stoney Ridge.

Desperate for photographs of the elusive tern, Ben hires a local field guide, Micah Weaver, and boards at Micah's farm, planning to "bag the bird" and leave Stoney Ridge before anyone recognizes him. But he neglected to plan for Micah's sister, Penny. One long-ago summer, Penny had introduced Ben to birding, even sharing with him a hidden eagle aerie. That eagle became his spark bird--the one that inspired his lifelong love.

Ben. He was Penny's spark bird. That was when she knew true love. She'd always hoped Ben would come back to Stoney Ridge. Back to his Amish roots. Back to her. The only problem? Ben has absolutely no memory of Penny.

Bestselling author Suzanne Woods Fisher welcomes her readers to the Amish community at Stoney Ridge in this engaging story of discovering just who the rare birds are in life.