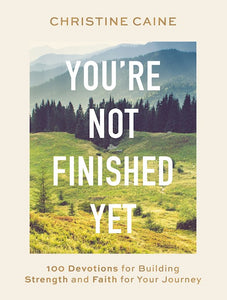 Are you facing a difficult season? Do your prayers feel unanswered? The middle of any endeavor—career, relationships, ministry, health—is often when our perseverance waivers, when peace seems out of reach, when the future feels uncertain. It's when life really gets hard.
In this empowering devotional, bestselling author, human rights activist, and international speaker Christine Caine reminds you that you can go the distance—not because you have the strength but because God does. As Christine shares stories from her ministry experience, her personal life, her walk with Jesus, and her hikes through the mountains of Southern California, Christine offers Scripture and spiritual reflections to help you:
Intentionally journey with Jesus even when you feel discouraged
Rely on God's strength in seasons of waiting
Keep praying, seeking, walking with Jesus every day
Focus your mind on spiritual practices that bring peace
Each of the 100 devotions includes a scripture, a devotion entry, and a takeaway for the reader. You're Not Finished Yet is a thoughtful gift for:
Fans of Christine's previous books including the prior devotional, Resilient Hope; her bestselling 365-day devotional, Unshakeable; as well as other books such as Undaunted and How Did I Get Here?
Anyone in the midst of a discouraging setback or a season of waiting
Mother's Day, Father's Day, Christmas, Easter, New Year's, and graduation
Readers seeking reminder of God's strength and peace
You're Not Finished Yet offers a dose of daily endurance so you can keep moving forward with perseverance—even in the messy middle.