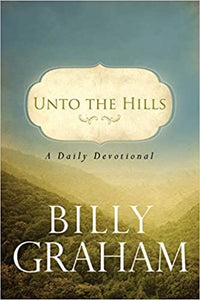 No matter your place in life, this inspiring collection of 365 devotional readings is designed to bring you daily to a special place of renewal— to help you pause and gaze "unto the hills" for help and inspiration. Day by day, you can join our nation's most beloved spiritual leader for a moment of quiet and reflection through:
A carefully chosen passage of scripture
A brief, thoughtful message from Billy Graham
A heartfelt prayer composed especially for this devotional
Distilled from a lifetime of study and ministry, these devotionals supply daily food for thought about living fruitfully and joyfully in an often-fretful world.
Simple, direct, encouraging yet challenging, this book offers itself as a heartening companion for your daily walk in the valley. This collection is a gentle but constant reminder that we can find help for all our needs as long as we remember to look up . . . unto the hills but especially unto the Lord. Billy Graham draws from his lifetime of study and ministry to offer this devotional classic, featuring 365 meditations to calm you and point you toward the One who can always help.