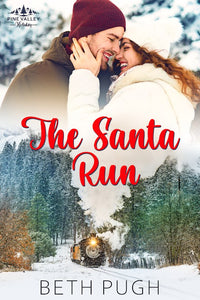 Tradition Isn't the Only Thing on the Line This Christmas

As Christmas rounds the bend, Eliza Lee Elliott struggles with her grandfather's death. Though her faith has carried her through the grief, working at the Appalachian Express has kept her sane, especially her new task of coordinating The Santa Run. Pine Valley's oldest tradition not only serves the community, the run gives her purpose.
Bennett Olsen is tired of city life. Something's got to give, and when McCoy Railway purchases the Appalachian Express, it gives in a big way. Supervising the Kentucky acquisition is his chance to slow down and win back the attention of his boss—and father—with a job well done.
When an accident threatens the Santa Run, Eliza and Bennett are pushed together at every turn, making their growing attraction impossible to ignore. As time ticks down to the event, tradition isn't the only thing in jeopardy. Hearts are on the line, with or without a train on the tracks.