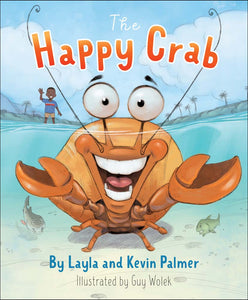 God often is teaching us something beautiful through our everyday decisions--and he's teaching our children too! 
The Happy Crab
 is based on a true story experienced on an RV trip that Layla, Kevin, and their son, Steevenson, took to the ocean.
Happy is an adventurous little crab whose world is suddenly turned upside down (literally!) when a mama and her son discover his large, unbroken shell in shallow water in the Santa Rosa Sound. Just as they decide to keep the shell as a souvenir, the boy unexpectedly feels something move inside. Discovering the crab still living inside his perfect home, the boy is faced with a decision: Keep him or let him go. Ultimately, he learns that sometimes true happiness comes from putting someone else's needs and happiness ahead of your own. This timeless story will resonate with children and adults alike, gently reminding us to put others first and focus on home.