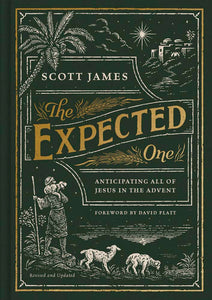 Every Christmas, Christians all over the world observe Advent, a season that reminds us of the love, hope, joy, and peace found only in Jesus Christ.  Through this short and sweet family devotional (especially helpful if you're teaching little ones with short attention spans), Scott James brings to light the many promises of Christ―from birth to ascension―that demonstrate His love for us during this Christmas season.
These daily devotions, which can be used by both families and individuals, are timeless and moving reminders of the true gift of Christmas. 
The Expected One
 is a perfect (and doable!) gift for any growing family or beloved friend who needs meaningful and biblical reminders of all Jesus is for them during the busy and the bustle of the holiday season, setting Him back in the center of it all.