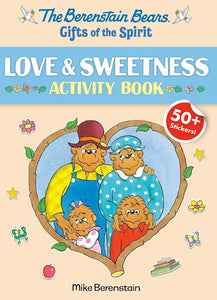 A Berenstain Bears faith-based sticker and activity book that celebrates the love and sweetness shared between family, friends, and neighbors! This full-color activity book includes mazes, puzzles, word searches, and over 50 stickers!
The Berenstain Bears Gifts of the Spirit series celebrates the joy of faith, family, and friends—values essential to a wholesome and fulfilling life! Children ages three to seven will love this sweet 32-page faith-based activity book created by Mike Berenstain, son of Stan and Jan Berenstain!
Other Gifts of the Spirit Activity Books
Caring & Sharing Activity Book
Helpful Hands Activity Book
Joyful Celebration Activity Book
Series Overview: We are publishing four Berenstain Bears titles in Fall 2022: Fair Is Fair (Berenstain Bears Gifts of the Spirit) and The Berenstain Bears Meet Bigpaw: A Thanksgiving Story (Berenstain Bears) are both 32-page hardcover storybooks, in addition to the following 32-page Gifts of the Spirit Sticker & Activity Books: LOVE & SWEETNESS and JOYFUL CELEBRATION. We launched the Berenstain Bears Gifts of the Spirit series with Caring (Spring 2021), Sharing (Summer 2021), Love (Fall 2021), Family (Spring 2022) and Trust (Summer 2022). We will also publish board book versions of each title one year after the publication of the hardcover storybook. We're hoping to reissue/recover five or six classic Berenstain Bears titles per year.