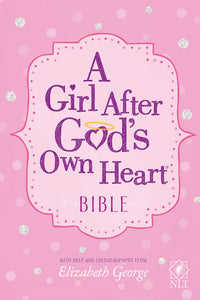 More than just pretty and pink, this Bible helps tween girls (ages 8-12) get the most out of their time in God's Word and better understand what they are reading.
Bestselling author and respected Bible teacher Elizabeth George shows girls how to grow and bloom in their walks with God. Based on Elizabeth's popular book of the same name, 
A Girl After God's Own Heart® Bible
(in easy-to-read New Living Translation) has everything tween girls need to become lifelong students and lovers of God's Word.  
Special features include:
Book introductions—
Elizabeth includes helpful overviews, brief lists of important lessons, quick guides showing where to find important information, and one-sentence prayers.
Short biographies—
these informative snapshots help readers get to know many of the women and girls in the Bible.
Devotions—
girls will practice planting passages of Scripture deep into their hearts.
"What God Says About…"—
brief summaries of the truths of Scripture show girls how to apply them to their everyday lives.
"Did You Know?"—
these interesting facts on people, places, and things help girls get to know the world of the Bible.
"Open Your Heart"—
in just a sentence or two, Elizabeth invites girls to apply a specific truth from God's Word to their hearts and lives.
Highlighted verses
—many of Elizabeth's favorite verses are highlighted and paired with one-sentence applications or prayers.
This Bible makes a great gift and will help any tween girl deepen her faith and understanding of God's Word.