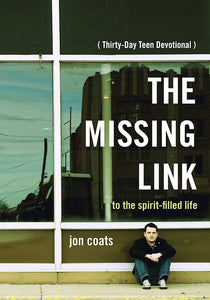 You know how frustrating it is to get a call on your cell phone and you can't hear because of a bad reception? So many people are trying to do the same thing with their lives. They are trying to live for God, yet they have no reception with God. They love God and want to do what He wants but don't understand how getting "good reception" with God actually works.
Living for Christ can often times seem like a struggle. Many times you can feel as though you have failed in your Christian walk. But God has provided a link for you that often times is missed or overlooked. The missing link is the Holy Spirit. With His help, your Christian walk will make more sense.
The Missing Link is a 30 day devotional for teens to begin a lifelong conversation with the Father. On each of the 30 days, you will find scripture, devotional reading and a daily challenge. Take the next 30 days and let God open your heart to what's been missing.