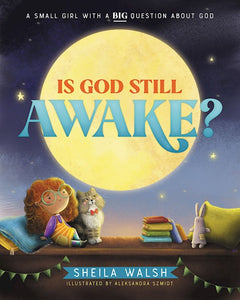 In this delightful full-color picture book that teaches children about prayer, bestselling author Sheila Walsh helps you show your kids how, when, and why to talk with God as they learn more of who God is and how much He loves them!
Inspired by the ways God has used her book Praying Women, Sheila Walsh wanted to share her passion for prayer with kids--a passion that began when she was a little girl who wondered if God could hear her any time of the day or night.
Is God Still Awake? introduces curious young readers to Poppy: a little girl who has big questions about God! Poppy wants to know how to talk with God and whether God listens to her. As she goes through her day with her cat by her side, Poppy discovers that God is always there--even when the world is asleep!
With humorous, rhyming text, Is God Still Awake? assures children that God loves them and is always with them. Whether it's day or night, God is awake, He's listening, and He loves to hear His children speak!
This whimsical jacketed picture book is a perfect gift for:
children ages 4 to 8
Christmas, baptisms, birthdays
children beginning their faith journey
grandparents to share their faith across the miles
traveling, snuggling, or bedtime reading