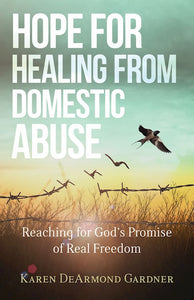 When someone leaves an abusive marriage, life isn't instantly fixed. Women who have experienced domestic violence feel shattered. Because of the trauma they've been through, a bond with their abuser has formed that keeps them tied together long after they've physically left.
Karen DeArmond Gardner understands these difficulties all too well. She tackled all the same struggles when she left her own abusive marriage. And she intimately knows what women in this situation need in order to gain freedom from the lies of abuse-to be reborn as the people God longs for them to be.
Hope for Healing from Domestic Abuse
 isn't a how-to book with a few easy steps. Instead, it's a biblically based map for a long journey to healing. By recounting her own history--as well as the faithfulness of God when she was willing to follow His direction--Karen helps readers:
- discover there is life beyond abuse
- recognize God's relentless pursuit of their heart
- gain courage to release the trauma of their past
- regain life, hope, and wholeness in Jesus's healing love
Gardner's inside perspective, strong voice, and incredible, vulnerable story of deliverance from the bonds of abuse allow readers to find themselves in her words and feel heard at last. She puts hope back in their hands, with the assurance that God loves them deeply and wants them to know they aren't defined by their trauma, their past, or their brokenness.