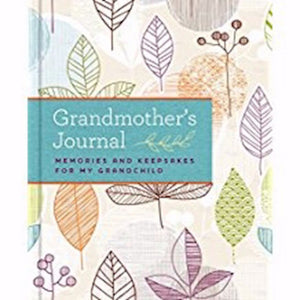 The perfect gift for your grandmother (ideal for Mother's Day and birthday giving), this beautiful keepsake memory book is designed to capture and preserve grandmother's unique memories, from the days of her own childhood through the precious moments she spends with her grandchild. Includes digital media prompts as well, for the modern grandma!
Gorgeously designed, this charming guided journal offers a place to chronicle grandmother's own life story, keep a living record of her experiences, and record her hopes and dreams for her grandchild. Each page includes thoughtful prompts to inspire grandma to record her most meaningful memories, plus plenty of space for including memorabilia and photographs.
Beautifully designed memory book to keep forever
Lots of room to record details of grandmother's life for grandchildren to discover
Thoughtful prompts elicit meaningful memories to cherish
Sturdy pocket in back endpaper to hold memorabilia
Includes ideas and tips for engaging with grandchildren through playful memory activities, creating a family tree, and creating digital scrapbooks.