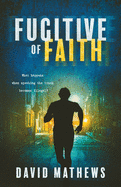 That is the question Pastor Pete Holloway faces when California implements the Hate Speech Reparation and Elimination Act. When the San Francisco pastor is threatened with fines, reeducation, and incarceration for violating the state's new hate speech law, he chooses to flee. But from what? Truth? Responsibility? God? Or his own sin?
As he struggles to remain one step ahead of the law, Pete is forced to confront his options. Should he join the resistance and fight back, remain on the run until the Draconian law can be overturned, or should he return to take his stand and face the consequences? As he wrestles with his conscience, he discovers things hidden deep in his heart which must be addressed before he can find resolution and peace.
Is he courageous enough to confront them, or has his journey been in vain?