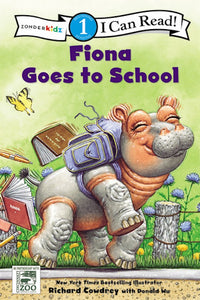 Perfect for beginning readers, this new Level 1 I Can Read book continues the story of Fiona the Hippo, and teaches children about the beginning of a new school year.
Beginning readers will enjoy reading about Fiona, her friends, and the zoo in this Level One I Can Read about the little hippo that has captured hearts around the world with her inspiring story and plucky personality.

Join Fiona and a few of her animal friends as they attend zoo school for the very first time and find out just how fun it is to learn new things.

Fiona Goes to School is:

An easy-to-read inspirational story about the importance of learning
A Level One I Can Read story geared for children learning to read
Great for kids who love learning about animals
Perfect for back-to-school reading, summer reading, birthday gifts, and holiday gift-giving
Created by New York Times bestselling artist Richard Cowdrey of Fiona the Hippo; A Very Fiona Christmas; Fiona, It's Bedtime; Legend of the Candy Cane; Bad Dog, Marley; and A Very Marley Christmas fame
Fiona Goes to School is one title in an I Can Read series that focuses on Fiona the hippo. Other titles include: Meet Fiona, Fiona Saves the Day, Fantastic Fiona, Fiona and the Rainy Day, and Fiona's Train Ride.