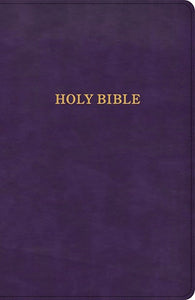 The KJV Thinline Bible, Value Edition is economically priced, easy-to-carry, and easy-to-read, featuring 9-point type and a thinline design that slips easily into a backpack, tote bag, or purse. Breakthroughs in typography and paper manufacturing contribute to a thinline Bible that combines readability, portability, and durability.
FEATURES
Pure Cambridge Edition of the KJV text
Thinline design that is less than one inch thick
Durable Smyth-sewn lay-flat binding
Two-column verse-by-verse text format
Topical page headings
9-point type size
Words of Christ in red
"Where to Turn" section with Scripture references for common life issues
Presentation page for gift-giving
Full-color maps
The KJV Thinline Bible, Value Edition features the authorized Pure Cambridge Edition text of the King James Version (KJV) translation. The KJV is one of the best-selling translations of all time and captures the beauty and majesty of God's Word for those who love the rich heritage and reverent language of this rendering of the Holy Bible.