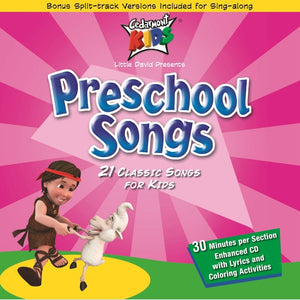 Down By The Station
2 Bluebird, Bluebird
3 Lazy Mary Will You Get Up?
4 My Bonnie Lies Over The Ocean
5 Sarasponda
6 The Happy Day Express
7 Where Is Thumbkin?
8 It Ain't Gonna Rain
9 Head, Shoulders, Knees and Toes
10 Children, Jesus Loves You
11 I Bought Me A Cat (The Barnyard Song)
12 The Birdies In The Treetops
13 The Grand Old Duke Of York/A'Hunting We Will Go; The Grand O
14 Oats, Peas, Beans and Barley Grow
15 Shoo, Fly Don't Bother Me!
16 Ring Around The Rosy
17 Everybody Ought To Love Jesus
18 The Swing
19 The Farmer In The Dell
20 One Little Brown Bird
21 It's Raining, It's Pouring