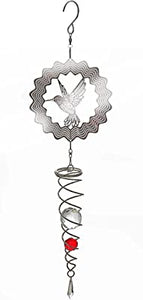 Bring an exotic look to your room with this 16" Wind Spinner and Sun Catcher. It is designed in such a way that it spins with the gentle movement of the wind. Hang it near the doors and windows and get lost while watching this attractive spinning beauty. Made from stainless steel, this silver wind spinner is decorated with tree detailing and consists of alluring crystal green and transparent balls. This item is sold on a per piece basis.
Design: 27" Wind Spinner And Sun Catcher (Tree)
Material: Stainless steel
Dimension: 6 X 27
Use: Ideal for home decor.
Care Tip: Spot clean.